My morning started at 3 AM. I took a nice long shower, dressed and did my final packing. Thanks to Pastor Dave, we were able to borrow the big van to transport 4 people, 6 suitcases and 4 carry-ons. We picked up Kenny and Shanon at 4 AM and then headed to Mission Valley for Heather. We got to the airport 15 minutes to five. Checked our baggage at the curbside and headed to gate 18. Kenny gave me hard time that we were an hour early and he could have slept in more. But he ate crow because by the time we got our coffee it was time to board the plane.
Heather brought this sleep neck brace thingy and we all teased who would have to sit next to her while she wore that thing. This time I ate crow. Heather slept soundly as I struggled to keep my eyes and mouth closed.
Traveling to Seattle, I got the window seat and Heather got lucky sitting next to a very nice lady. Perfect plane neighbor; not too talkative but friendly. Unfortunately for Kenny and Shanon, they both got middle seats and didn't even get to sit together.
We had a short one hour layover; just enough time to get a disgusting overpriced tuna sandwich and a bottle of water. At takeoff I applied my seasickness patch. Soon I was drowsy and was able to sleep fairly soundly for about an hour, hour and half. I brought 2 books, Beth Moore's "Get Out of That Pit" (thanks Kate) and Stephanie Meyer's "Twilight". The latter (and against Kelley's opinion) is turning out to be pretty good. It's easy reading so I'm already a third of the way into it.
Heather and I had a long discussion about the face that is printed on every Alaskan plane. If you ask me, he looks like he has an afro mane. If anyone is interested in googling this guy, can you please let us know who he is and leave a comment?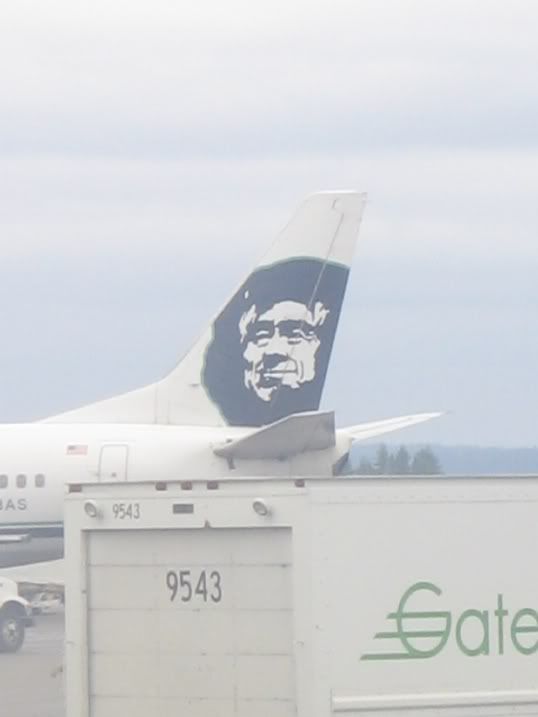 We traveled a total of 8 and a half hours, including the one hour layover. Once we landed in Anchorage, we were shuttled to Whitter where the ship was docked. It was over an hour ride but a beautiful ride it was. We saw our first glacier. It was a beautiful blue color.
We sat next to the cutest old man and his wife. They held hands the whole ride down. He was a talker and asked everyone around him "Where are from?" and "What do you do?". Eventually, whe there was no one else he could ask about, I asked him "Where are you from?' Him and his wife had the best accent. He said he was from Texas. Then I asked "What do you do?" He said that he was a Pastor, in ministry for over 35 years. Two weeks ago he retired and his church family bought this Alaska trip for his retirement. He knew I worked at a church (he inquired not only about me, but my husband too) so we talked for awhile. He knew John Maxwell, therefore knew Skyline so it was very easy for me to explain the location and denomination. He was very sweet, reminded me of Pastor Bob.
Once we went through check-in through the cruise I was ready to call it a day. And the patch took a toll on me. I could barely keep my eyes open and I had an unquenchable thirst (a side effect that I was warned about). I was miserable so I took it off. The risk of me being seasick is slim to none, I just wanted to take it as a precaution. Well, I was so uncomfortable and exhausted, at that point I would take my chances.
The company who is hosting this trip had an early cocktail hour to socialize and schmooze. It was nice but I was so tired I just could not get into it. We left the cocktail party and went strait to dinner. I had the chicken with white rice and a black forest cake. Not as good as mom's but it was good.
We are ordering breakfast for tomorrow morning, They have supplied us with thick bathrobes, so Heather and I will be eating out on our balcony.
I am now sitting in our cabin desperately wanting to climb into bed. We did not have enough time to set us up on the internet so whenever I decide to wake up tomorrow I will add my first post to you.
xoxo
PS - I am having trouble uploading my pictures. I think I know the problem but it will have to wait till later. I am late to my scapbooking class. :)